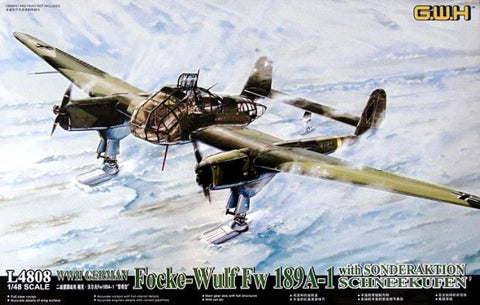 1/48 WWII German Fw189A1 Aircraft w/Skis
1/48 WWII German Fw189A1 Aircraft w/Skis.
In 1937, the RLM issued a requirement for a reconnaissance and observation aircraft that could support Luftwaffe and Wehrmacht intelligence requirements. This design would replace the Henschel Hs 126. Arado, Blohm and Voss, and Focke Wulf all entered designs with the Arado Ar 198 becoming the initial favored option. The Arado's high wing and single engine offered simplicity, but flight test revealed poor performance.

Focke Wulf put forward a twin-engined design as the Fw 189. This aircraft was a twin-boomed monoplane that was powered by a pair of Argus As 410 engines rated at 459 horsepower each. The Fw 189 could take a crew of three up to over 27,000 feet and its light wing loading allowed it to out-maneuver Soviet fighters out for an easy kill.

The Fw 189 was used extensively on the Eastern Front to provide Wehrmacht commanders a commanding view of what the Soviet Armies were up to around the vast Russian landscape. The design was so successful that the Fw 189 would remain in production throughout the war at factories in Bremen, Bordeaux-Merignac (now Dassault) in France, and Aero Vodochody in Czechoslovakia.

Over the production span of the Fw 189, a number of variants were produced including the Fw 189A-0 prototypes, the Fw 189A-1 armed with two MG15 machine guns, the Fw 189A-1/Trop for desert operations, the Fw 189A-2 that replaces the MG15s with MG81Z, the Fw 189A-3 trainer, the Fw 189A-4 light ground attack version, the Fw 189B series built in very small numbers as 5-seat training aircraft, and Fw 189C series as a heavily armored ground attack variant that wasn't produced, the Fw 189D floatplane that wasn't built, the Fw 189E with a pair of Gnome Rhone radial engines not produced, and the Fw 189F series which were updated Fw 189As that were re-engined with larger Argus powerplants and other enhancements.

Features and Options:
Nicely detailed cockpit
Nicely detailed rear gunner's position
Positionable cockpit access doors
Detailed engines
Positionable cowling panels
Positionable ailerons
Positionable rudders
Positionable elevator
Positionable flaps
Positionable boarding ladder
Fixed landing gear with fairings and skis
Optional maintenance work stand
Optional pilot's figure
Window masks to make painting SO much easier
Markings Provided for One Example:

Fw 189A-1, KD+RO, Russian Front
Swastikas are provided in this kit though they are broken up in segments to keep this kit compliant with certain European laws.

Painting instructions are provided in the new Gunze Creos color standard though RLM numbers are also identified so you can use what paints are convenient wherever you are.
---
We Also Recommend