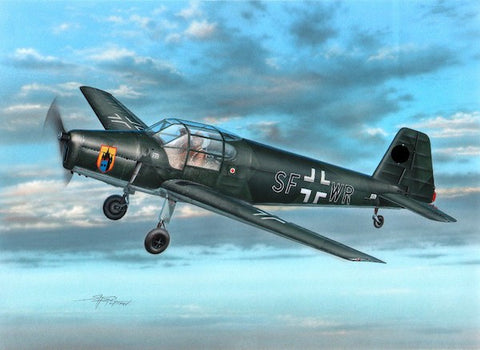 1/48 Bucker Bu181 Trainer/Fighter
1/48 Bucker Bu181 Trainer/Fighter.
The Bücker Bü 181 Bestmann was chosen for a standard Luftwaffe training aircraft back in 1939. It served throughout the war from its outset to the final stages and as it happened it also saw combat action in a nocturnal harassment role or even as an anti-tank machine. Noteworthy is also the fact that the type was produced even in the post-war era in a couple of countries such as Sweden, Czechoslovakia or Egypt which made the Bücker both wide-spread and famous. Most of the aircraft were still flying in the mid 50´s and some of them can still be seen in the sky even these days.

A completely new model (MPM produced another model of the same type long time ago, nothing in common with the current effort) comes via three runners of grey styrene and one frame with clear parts. These are accompanied by a resin engine replica and a PE-fret with delicate parts for both interior and exterior of the model. The decal sheet printed by Italian Cartograf covers three marking options, two of them for German training machines and one for a rather eye-catching Swiss aircraft.
---
We Also Recommend