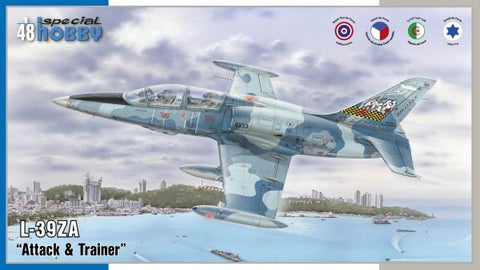 1/48 L39ZA Albatros Attacker/Fighter
1/48 L39ZA Albatros Attacker/Fighter.
The L-39 is a fast jet trainer that was designed and manufactured in Czechoslovakia (as was) as a direct replacement for the earlier L-29 Delfin. It has been a success in its roles, and has received a number of upgrades that have resulted in new designations, and since the dismantling of the Soviet Union, some have found their way into private hands throughout the west, and they are often seen at airshows. It first flew in 1971, and was hoped to become the standard trainer across the Union, and the in 1977 the ZA variant was flying, fitted with a cannon and four hard-points for mounting various weapons in the Light Attack role.

With the Soviet Union gone, the orders began to dry up, and an updated L-159 was produced in partnership with Rockwell, using more up-to-date avionics. More recently, an L-39NG has begun development to begin deliveries of a thoroughly modern "Next Generation" of Albatros.
---
We Also Recommend